Get Your Favorite Faygo Flavor in a Candle
Detroit-based candle and wax melt company, Motor City Creations, now sells limited edition Faygo candles and mini wax melts they call tarts. The scents come in Vanilla Cream, Orange, Root Beer, Grape, Rock 'N Rye and Redpop. These are triple scented soy candles and melts. The candles feature wood wicks that crackle as they burn. The 15 oz. candles burn for 60 – 80 hours. The tarts come in 2.5 oz. clamshells and sell for $5 a piece. The candles are $20 for one or you can go all out and get all six flavors in a nifty crate for $150. Then there are the two for $50 which includes two candles and two wax tarts. Who wouldn't want to have their home smell like an ICP concert? This ninja sure the hell would!
Speaking of a tasty Faygo Showers, Thrillist.com just wrote an article about our beloved cheap soda. "11 Weird Things You Didn't Know About Faygo" shares some very interesting facts about Faygo you never knew. It also ends with a fact we all know a lot about.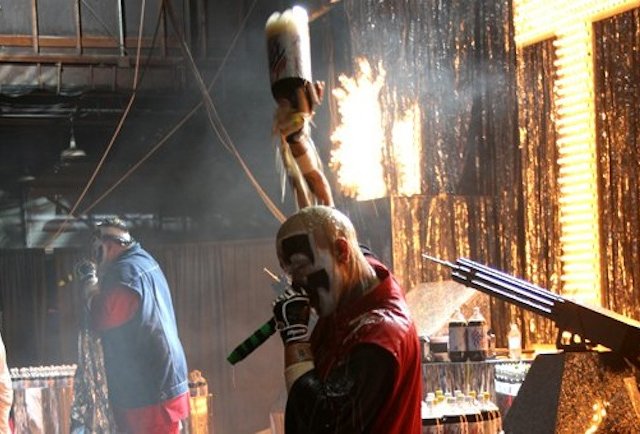 11. "Faygo showers" are a thing. After receiving an enthusiastic crowd reaction to their throwing a Faygo bottle into a group of hecklers, rap duo Insane Clown Posse now incorporates the soda into every show, and it is a huge part of their fan culture. Whoop whoop!  
I was indeed amazed and thirlled when I read number 11. The rest of the article is very interesting as well. Go to the link above to get schooled on Faygo.
Ride the Sweet Faygo Flavor Too!
Detroit Bikes have also partnered with Faygo to bring thier unique bikes in the colors of Faygo. The smooth riding large wheeled bikes come in five flavors, Redpop, Grape, Cotton Candy, Orange and Moon Mist. They will set you back a pretty penny though.
Subscribe to the True Juggalo Family newsletter for more freshness!
Comments
Comments