TJF's Favorite Non Christmas Movies To Cure The Blues

Are you tired of all the Christmas movies just being played over and over? Not a Christmas person and don't care for Christmas movies? That's OK, your homies our here at TJF have got you covered!
I mean we all know the typical Christmas movies that are on TV every year like Christmas Vacation, A Christmas Story, Elf, and well let's face it you know the rest.  Today, we would rather focus on the Non Christmas movies that use the holidays as part of the environment of the movie.
Ok so the most obvious one that comes to mind is that "Yippie Ki Yaying", John McClaine from the Die Hard series. Because I mean who wouldn't want to throw Severus Snape off of a high rise building. With all the cheesy and witty puns, you gotta appreciate the Monday morning bits of sarcasm.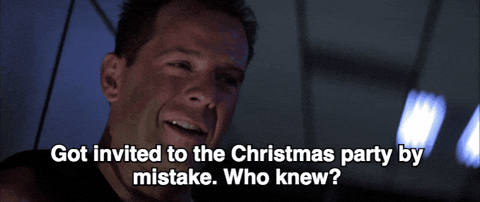 Next up would have to be the cult classic Gremlins.  "Don't expose him to bright light. Don't ever get him wet. And don't ever, ever feed him after midnight." Granted these probably apply to my fat ass but these are the guidelines for that sweet loving Gizmo. I also think there is an underlying birth control message here. I mean think about it, some irresponsible teenage kid is given these rules on how to  care for this thing. He fucks it all up and releases hell spawn upon the masses. Remember kids, no glove no love and shit. This flick will definitely entice you to kick back and watch these little fuckers terrorize everyone in the holiday spirit.
Anyone that knows me, this is me laughing
Lethal Weapon is another '80s Non-Christmas classic that features the best tree shopping scene of all time:
What other non Christmas movies can you think of? Like our picks? Think they suck donkey balls? Well shit, let us know in the comments!
Subscribe To Our Newsletter For Exclusive Content & Fresh Ass Contests!
[newsletter]
Comments
Comments